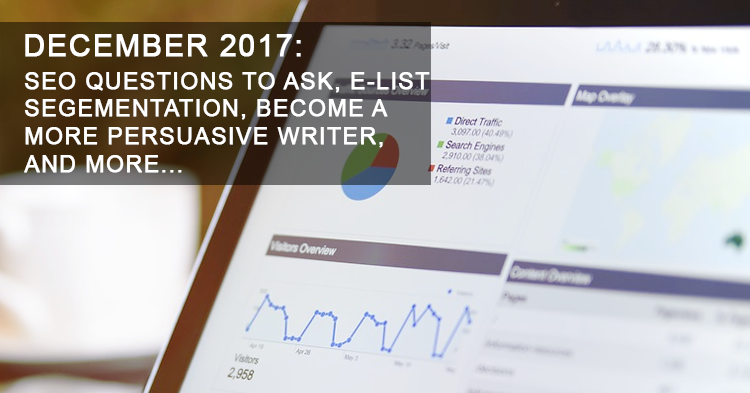 As an insurance professional, it's imperative to keep up with the latest trends and best practices in the digital marketing world. Our monthly digital marketing news update gives you the latest scoop for a variety of online media critical to your success.

For the month of December we look at some SEO questions you might be too scared to ask, reasons why you should be segmenting your e-list, how to write more persuasively, and more.
---
LATEST SEARCH NEWS:
A look at the latest best practices and algorithm updates for Google and other top search engines.
---
5 SEO Questions You Were Afraid to Ask
Everyone knows about SEO right? You'd be stupid to ask a simple SEO related question, right? Wrong. Here are five common SEO questions you may have been too afraid to ask, such as, "Do I still need meta keywords?" Read More
How Google AdWords (PPC) Does and Doesn't Affect Organic Results – Whiteboard Friday
So many companies are moving to a "Pay to play" monetization strategy. Without Facebook ads, your organic posts barely get viewed. So with that in mind, do you have to join Google AdWords and start paying for search engine traffic in order to affect your organic ranks? Read More
---
EMAIL BEST PRACTICES:
Insight into the most effective design and execution strategies for email marketing.
---
Should I be Concerned with Text and Image Ratio in Email?
Email marketing is a great way to stay in front of both prospect and current customers. When you are sending e-blasts to your email lists, you are typically incorporating a mix of text and images within the email. This article takes a look out how you should balance the text and image mix in your emails. Read More
4 Reasons Why Segmenting Your Lists Dramatically Impacts Your Success
Segmenting your emailing lists can vastly improve the performance of your email marketing efforts. Why? You can craft each message to be customized to each segment. Even better, you can start working on "personalization", a feature that many more end users are starting to expect. Read More
---
BEHAVIOR & CONVERSIONS:
Latest trends and findings for optimizing website visitor behavior and conversions.
---
How-to Guide to Persuasive Writing
Writing persuasively can make all the difference when it comes to making a sale. The right words can elicit a desired action, such as a purchase or call for more info. Persuasive writing contains three core elements: what you say, how you say it, and how you structure it. Here's a guide with pro tips to improve your writing skills. Read More
Why Today's Bloggers Spend More Time Writing Less Content
It would seem, based on the research in this article, that gone are the days of churning out daily 500 word articles. The respondents in the poll, a pool of professional writers, have been writing longer but less frequent content. These long-form articles typically have very positive results because they are thorough and can cover an entire topic, versus bits of a topic. Read More
---
SOCIAL MEDIA:
The inside scoop on the latest social media trends and developments.
---
4 Reasons Marketers Should Embrace Instagram Over Snapchat
Snapchat had monster growth and seemed to be a marketing medium that advertisers wouldn't be able to ignore. However, that has changed as Instagram's "Stories" feature, a direct competitor of Snapchat, has substantially grown. In fact, the feature now has 250 million daily active users, which eclipses Snapchat's entire user base. With that said, here are some other reasons why you should focus on Instagram over Snapchat for marketing. Read More
How to Get Started with Twitter Advertising
If you are looking to diversify your marketing efforts, one option is using Twitter. Other than using the platform as a free promotional tool, you can also opt for paid ads. There are three main types of promotions you can choose from: promoted tweets, promoted accounts, and promoted trends. Learn more on getting started with Twitter Advertising. Read More
If you missed it, check out last November's Digital Marketing Update.