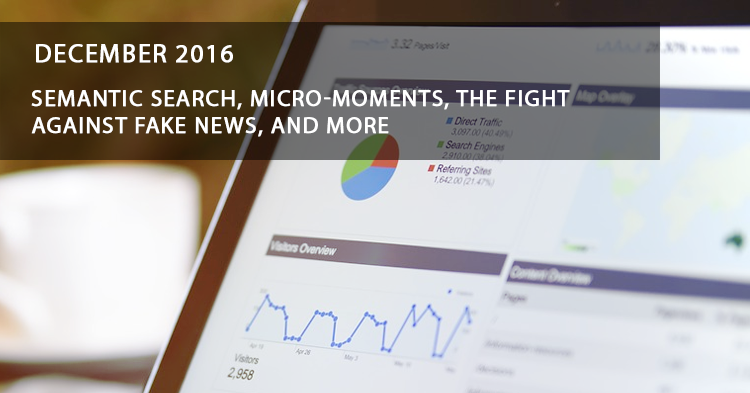 As an insurance professional, it's imperative to keep up with the latest trends and best practices in the digital marketing world. Our monthly digital marketing news update gives you the latest scoop for a variety of online media critical to online success.

For the month of December we look at engaging content to strengthen your SEO efforts, avoiding the spam filter, Facebook's call-to-action button update, and more ...
---
LATEST SEARCH NEWS:
A look at the latest best practices and algorithm updates for Google and other top search engines.
---
Semantic Search: How You Are Shaping The Way Google Works
"Semantic search" is one of those terms that makes people think "oh great, this sounds complicated." But really it's designed to make things easier. Read More
Google Is Introducing Native Video Ads for Mobile Publishers
If Google's research is correct, more than half of all smartphone users give up trying to load mobile websites if it takes longer than three seconds. Read More
---
EMAIL BEST PRACTICES:
Insight into the most effective design and execution strategies for email marketing.
---
The Coming Revolution in Email Design
Email, the web's much-maligned little cousin, is in the midst of a revolution - one that will change not only how designers and developers build HTML email campaigns, but also the way in which subscribers interact with those campaigns. Read More
Millennials' Email Marketing Dislikes Are (Mostly) the Same as Everyone Else's
Despite millennials having a reputation for being different from everyone else, their email behavior is very similar to that of older generations when it comes to the things that drive them to unsubscribe and report emails as spam. Read More
---
BEHAVIOR & CONVERSIONS:
Latest trends and findings for optimizing website visitor behavior and conversions.
---
Micro-Moments: Your Guide to Winning the Shift to Mobile
Immediate. Relevant. Frictionless. That's the experience consumers expect when they turn to a device to find, do, or buy something. To win, marketers have to be there to meet them in these micro-moments. Read More
The Battle for Traffic: Organic SEO vs. Social Media Marketing
Nowadays SEO cannot be effective without well-executed content curation. And that's where social media kicks in - it helps you unlock untapped potential. Read More
---
SOCIAL MEDIA:
The inside scoop on the latest social media trends and developments.
---
Twitter to Developers: Public APIs, Gnip Cannot Be Used for Surveillance
Twitter issued a reminder to developers that its public application-programming interfaces and data products are not to be used for surveillance purposes. Read More
Facebook Plans New Ways to Fight Fake News
Facebook founder and CEO Mark Zuckerberg said recently the company is exploring new ways to fight the spread of "misinformation" on its social platform amid criticism of its role in amplifying so-called fake news during the presidential campaign. Read More
Here is November's Digital Marketing News Update.