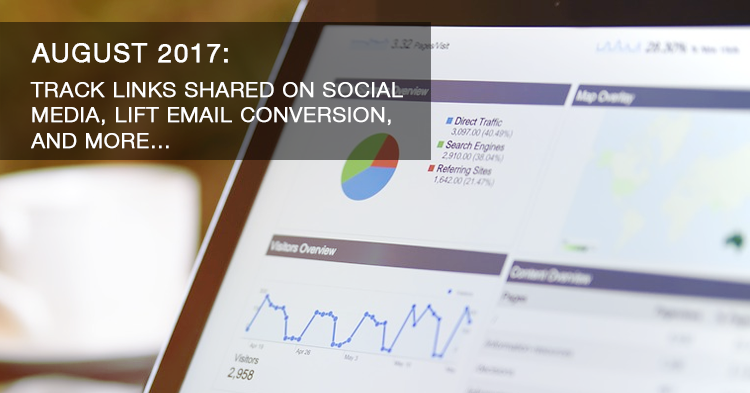 As an insurance professional, it's imperative to keep up with the latest trends and best practices in the digital marketing world. Our monthly digital marketing news update gives you the latest scoop for a variety of online media critical to online success.

For the month of August we look at optimizing your site for multiple keywords, how to lift email conversion, how to track links shared on social media, and more.
---
LATEST SEARCH NEWS:
A look at Google's new homepage and ways to optimize websites for multiple keywords.
---
What do we know so far about Google's new homepage?
Google has released a new, feed-based mobile homepage in the US, with an international launch due in the next two weeks. Read More
4 Ways to Optimize Websites for Multiple Keywords
In today's SEO, where context is more important than keywords, performance measurement often still comes down to specific keyword terms and phrases that a user searches. Read More
---
EMAIL BEST PRACTICES:
Insight into lifting email marketing conversion and engaging customers without annoying them.
---
How to lift email marketing conversion step-by-step
When a well-crafted email arrives in your inbox, it grabs your attention and without any effort you know if you want to act on it or not. It is like you are sucked in, and can't resist taking the next step. Read More
Don't Interrupt Me! How to Engage Your Customers Without Annoying Them
Inundating your audience with multiple messages at inconvenient times isn't helpful. Therefore, it's important to know when and how to engage with consumers. Read More
---
BEHAVIOR & CONVERSIONS:
Latest trends and findings on direct response strategies and call to action examples (the good, the bad, and the ugly).
---
9 Direct Response Strategies You Should Be Using to Increase Engagement and Sales
Well then, it follows that increased engagement be a priority of yours, too. And the best way to increase engagement is to straightforwardly ask for it, direct response style. Read More
25+ Call To Action Examples: The Good, The Bad, and the Ugly
The call to action is a core component of marketing, sales, and any persuasion-based effort today. There's been a lot of content written about how to tweak CTA copy, color, size, and other elements, but sometimes, it's easiest to learn through examples. Read More
---
SOCIAL MEDIA:
The inside scoop on using Facebook Messenger for customer service and tracking links shared on social media.
---
How to Use Facebook Messenger for Social Customer Service
Want to provide better customer service on Facebook? Wondering how Facebook Messenger can help? In this article, you'll discover how to use Facebook Messenger as a valuable social customer care tool. Read More
How to Track Links Shared on Social Media
When you share a link on social media channels, are you able to properly attribute your website traffic to a specific link? Read More
In case you missed it, here's last month's Digital Marketing News Update.