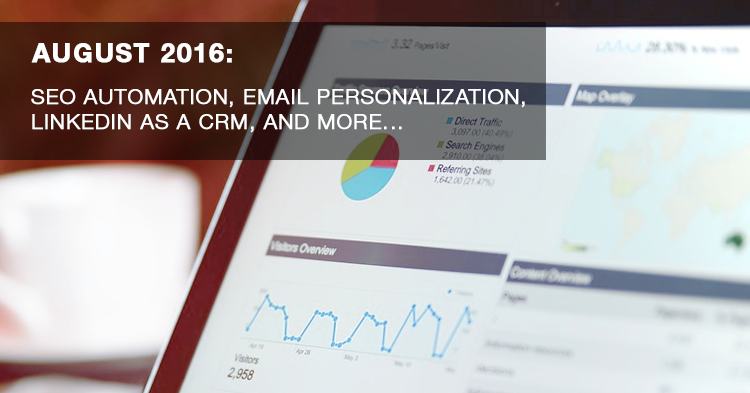 As an insurance professional, it's imperative to keep up with the latest trends and best practices in the digital marketing world. Our monthly digital marketing news update gives you the latest scoop for a variety of online media critical to online success.

For the month of August we look at SEO automation practices, email personalization techniques, using LinkedIn as a CRM resource, and more.
---
LATEST SEARCH NEWS:
A look at the latest best practices and algorithm updates for Google and other top search engines.
---
Can SEO Be Automated?
The process of SEO has been around since the beginning of the internet, but many business owners remain confused about the limitations of quick-fix solutions and automated approaches to SEO. Read More
Is "SEO" the right term anymore?
Columnist Winston Burton discusses how search engine optimization (SEO) has evolved over time and wonders whether the job title is truly representative of the work we now do. Read More
---
EMAIL BEST PRACTICES:
Insight into the most effective design and execution strategies for email marketing.
---
5 Email Marketing Personalization Tips to Implement Now
Where a one-size-fits-all approach to email marketing might have worked in the past, today effective email marketing requires personalization. Read More
Misunderstood Aspects of Email Marketing and How to Combat Them
Email's prevalence as a hub for personal data makes it an invaluable marketing tool, yet there are many misunderstood aspects of email marketing as well as ways to overcome these. Read More
---
BEHAVIOR & CONVERSIONS:
Latest trends and findings for optimizing website visitor behavior and conversions.
---
Are You Optimizing Your Site When You Should Be Optimizing Your Traffic?
Traffic optimization is the art of getting the right traffic to your site—the kind that converts—and avoiding the rest. Read More
7 Ways to Increase Accuracy and Insights in Google Analytics
Marketers need to regain control of their data by increasing confidence in the accuracy and including meaningful data sets that lead to decision-making conclusions. Read More
---
SOCIAL MEDIA:
The inside scoop on the latest social media trends and developments.
---
Fix Your Social Media Strategy by Taking It Back to Basics
Nearly half of CMOs believe they are not prepared to manage the challenges of social media. This disparity highlights an important, and potentially costly, problem. Read More
Why you should use LinkedIn as a CRM component
LinkedIn, which is a great platform for establishing connections on an individual level and perhaps providing visibility of common connections between contacts, is one of the key data sources for the CRM system. Read More
Read July's Digital Marketing News Update here.