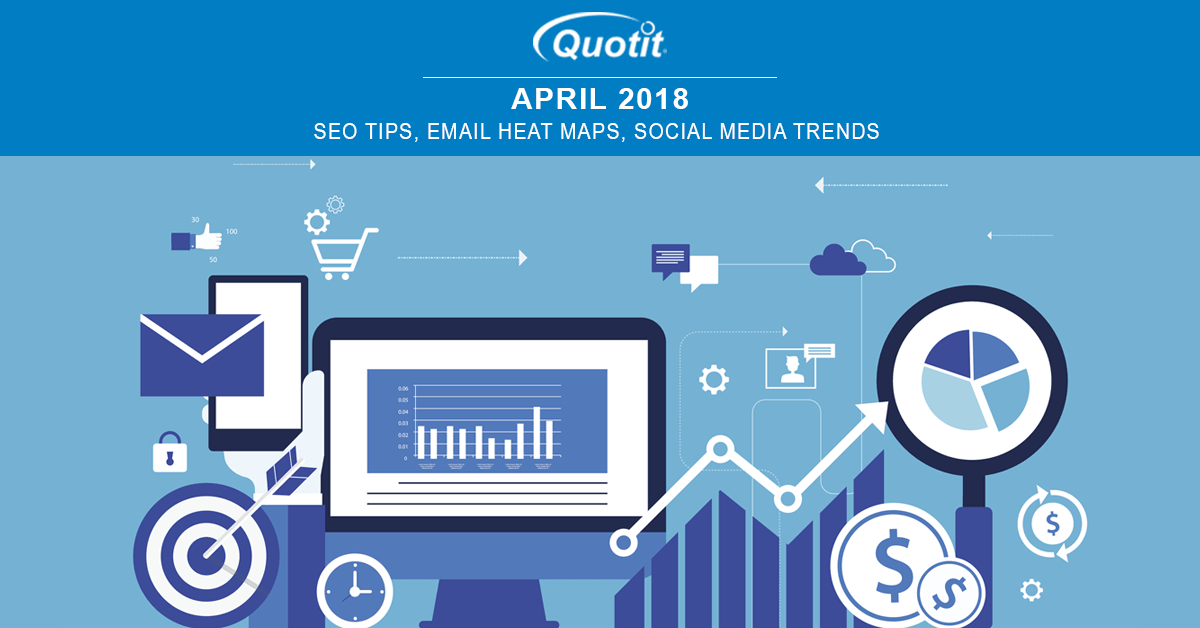 As an insurance professional, it's imperative to keep up with the latest trends and best practices in the digital marketing world. Our monthly digital marketing news update gives you the latest scoop for a variety of online media critical to your success.
For the month of April we look at actionable SEO tips to improve your rankings, email heat map questions, 7 social media trends to keep an eye on, and much more.
---
LATEST SEARCH NEWS:
A look at the latest best practices and algorithm updates for Google and other top search engines.
---
How to Tell if Declining Organic Traffic is a Tracking or Optimization Issue
Seeing a drop in organic traffic year over year is not a pretty sight. It creates a lot of fear that your website is no longer showing up for those ever-so-crucial search terms that drive conversions. However, it requires specific step-by-step analysis to determine the problem as outlined in this Moz post. Read More
15 Actionable SEO Tips to Improve Your Search Rankings
Looking for some simple tips to start churning out better optimized pages and posts? Here are 15 great ways to get better rankings that don't involve technical SEO or programming knowledge. Read More
---
EMAIL BEST PRACTICES:
Insight into the most effective design and execution strategies for email marketing.
---
Five Questions About Heat Maps and Email
Heat maps are a great way to learn where your recipients' interests lie. But you probably still have a number of questions regarding heat map usage in emails. Here are five questions and answers that might satisfy your curiosity. Read More
The 2018 State of Email Report
Email marketing is one of the most dynamic, fluid, and ever-changing marketing channels around. It is also a core part of most company's marketing strategy, making it important to keep up to date. Litmus put together a great report outlining some of the biggest changes and trends from the previous year. Read More
---
BEHAVIOR & CONVERSIONS:
Latest trends and findings for optimizing website visitor behavior and conversions.
---
The 6 Critical Chatbot Statistics for 2018
Chatbots have been all the hype these past few months and we're all aboard the hype train. They've actually been around a long time but have gained popularity because they've become much more intuitive due to smarter A.I. Plus, it's easier for your company to build and customize one. Read More
Stop Measuring These Vanity Metrics in Your Marketing Campaign
A vanity metric is a metric that looks great on paper, but actually doesn't tell you anything about your actual marketing effectiveness. Social media followers, total subscribers, and total pageviews are a few examples. What does it matter if you have 10,000 Twitter followers if none of them are engaged? Here are some metrics to focus on instead. Read More
---
SOCIAL MEDIA:
The inside scoop on the latest social media trends and developments.
---
7 Social Media Trends to Watch and Capitalize on in 2018
Want to know what's trending? These 7 social media trends. Keep an eye on them for the remainder of the year to see which ones your business can take advantage of. Read More
8 Best Free Photo Editing Apps for Marketers
Not all marketers are designers. Not all marketers are designers. We felt we needed to repeat ourselves because there tends to be a strong assumption to the point. However, it has become increasingly easy for the artistically-challenged to create stunning images thanks to free photo editing apps. It is also the perfect remedy for when you need a quick social media photo, which really shouldn't be worked on by a graphic designer. Read More
Read last month's Digital Marketing News Update