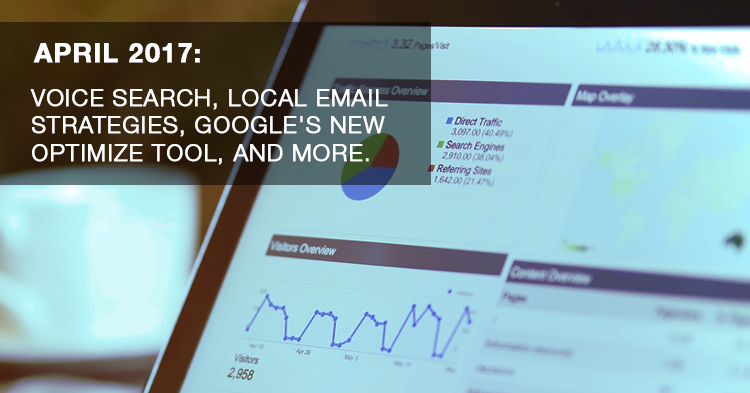 As an insurance professional, it's imperative to keep up with the latest trends and best practices in the digital marketing world. Our monthly digital marketing news update gives you the latest scoop for a variety of online media critical to online success.

For the month of April we look at how voice search will influence SEO, local email strategies, Google's new Optimize tool, and more.
---
LATEST SEARCH NEWS:
A look at the latest best practices and algorithm updates for Google and other top search engines.
---
Successful SEO Strategy in 2017 Doesn't Require Drinking Google's Koolaid
Not everything Google shares can be believed at face value. In other words, don't feel like you have to drink the Google Kool-Aid. Read More
Understanding voice search: What are the implications for marketers?
In last year's Google IO conference Google CEO Sundar Pichai announced that 20% of search queries were coming from voice search. What are the implications for search marketers? Read More
---
EMAIL BEST PRACTICES:
Insight into the most effective design and execution strategies for email marketing.
---
How to Measure Email Marketing Beyond Opens and Clicks
Opens and clicks only tell part of the story. If you want to measure the impact of email marketing on your business, you need to dig deeper. Read More
5 easy ways to launch a local email marketing strategy
There's a lot of evidence to suggest that the future of email marketing is hyperlocal. Read More
---
BEHAVIOR & CONVERSIONS:
Latest trends and findings for optimizing website visitor behavior and conversions.
---
Users And Devices: The New Ecommerce
Here's more proof that ecommerce transactions no longer take place on a single device. Read More
A/B testing solution Google Optimize is out of beta and free for everyone
Google's A/B testing and content personalization solutions, Optimize and Optimize 360, are now out of beta. Read More
---
SOCIAL MEDIA:
The inside scoop on the latest social media trends and developments.
---
5 Fundamental Principles to Create Stunning Facebook Ads
Did you know that red is so attention-grabbing because of the implications it had to our hunter-gather ancestors? Read More
The art of social media minimalism
Feeling overwhelmed by all the social media options? Columnist and Bitly senior content strategist Blaise Lucey says it may be time to simplify and cut the clutter. Read More
Looking for more digital marketing news? Check out last month's edition.