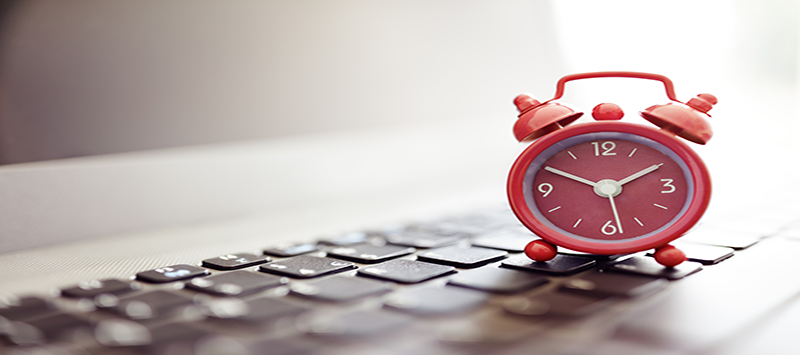 Time is money in health insurance sales, and when Open Enrollment Period (OEP) is in full swing, you can start to notice the days getting away from you. You don't want to miss out on sales because you just don't have enough time in a day to get through your leads. Let's take a closer look at some time management techniques that can make you feel like you've added an extra hour or two to your day.
Fourth Quarter Challenges
As a healthcare sales professional, you are accustomed to managing daily tasks as you simultaneously prospect, make calls, schedule appointments, prepare quotes, and close sales, but fourth quarter can make you feel as if you've suddenly leaned on the gas pedal, speeding up so fast you may be looking for a black and white flag being waved at you as you enter your office each morning.
Accelerated lead generation and potential for unprecedented sales growth is exciting – if you have time management techniques that allow you to take advantage of the opportunities.
Fine-tuning your time management techniques can be critical to maintaining control during the fast-paced fourth quarter sales period and can turn the busiest time of the year into the most profitable one, building momentum that will take your business to new levels of success in the year ahead.
Time management is a challenge for many busy health insurance agents, but taking control of your schedule during the hectic enrollment period will boost your productivity and, ultimately, increase sales and overall revenue.
Fourth quarter sales can exponentially increase your opportunities for referrals and strengthen your brand as a trusted resource for health insurance sales, so let's focus on some time management techniques that will help streamline your processes and run your business more efficiently.
Top Ten Time Management Techniques
1. Take on one task at a time.
Multitasking is an illusion. We like to think that it's possible to juggle several things at once, but the best multitaskers are actually just shifting gears quickly and seamlessly, moving from one task to another successfully.
In sales, you have to be cautious of trying to do too much at one time. Different parts of your job use varied levels of concentration. Gathering sales data, sending emails, and talking a client through their health insurance options all warrant a unique focus, and trying to do them all at once would be a disaster.
Don't let the hectic nature of the fourth quarter dilute your attention from any of the individual tasks that are crucial to your business. You will be more efficient by staying focused on one task and will be more successful overall.
2. Group similar tasks together.
You may find that grouping similar activities together into one chunk of time may be a more efficient way of getting through a project. For instance, if you are calling prospects, you may be tempted to make the call, leave a message, document the call, send a follow up, and then make another call. Instead, consider making one call after another. Once all your calls are done, shift your focus to documenting all of them, and then direct your attention to sending follow up emails.
3. Structure your day around your prospects and clients.
Timing is everything. Understanding your clients' needs includes getting to know when they will be likely to respond favorably to a call. Depending on your targeted demographic, you can determine what time of day will be most likely to result in a sale. For instance, early mornings may work well for senior clients looking for Medicare options, but if your prospect for a family health insurance plan has young children, you may have better success calling later in the afternoon.
If your prospect isn't available to discuss their insurance needs when you first call, ask them when a convenient time would be for them and set an appointment for that follow-up call. Put the appointment in your calendar immediately, and move on.
4. Streamline daily tasks.
If you have support staff, try delegating some of the administrative work that keeps your office running smoothly every day. If you are an independent agent, you will have to prepare in advance. During a hectic sales season, it's important to have materials on-hand to keep your prospect and client relationships moving forward to a sale. Marketing packages, direct mail pieces, and office supplies are essential, but prepare digital advertising, social media posts, and online blogs before a busy enrollment period gets too overwhelming.
5. Set time for prospecting.
During busy enrollment periods, most of your day is spent contacting leads, delivering quotes, and closing sales, but don't neglect prospecting. Devote a set amount of time each day for prospecting – your efforts will be responsible for sustaining your sales success during less busy seasons.
6. Prioritize your sales efforts.
Prioritize leads each day to make sure you are approaching the most viable prospects. If you purchased qualified leads, start with those. Lead scoring can be a more precise method in evaluating which leads should be contacted immediately. Based on the quality, behavior, and probability of conversion, you can be strategic in your sales efforts.
7. Schedule breaks.
You can't work non-stop without compromising your efficiency and ability to respond well to clients. As impossible as it may seem, schedule short breaks to give yourself a chance to catch your breath, get a cup of coffee, or grab a snack. You know that long days and working weekends are all part of the deal during the fourth quarter sales period, but don't burn out because you didn't give yourself a break occasionally. Your clients are relying on your expertise and energy – a short break can make you a better resource and agent.
8. Automate follow up.
Thanks to Customer Relationship Management (CRM) tools, you can automate follow up responses to prospects and clients, saving you time in the midst of a busy open enrollment period. An automated response system can help you create a personal connection in a more immediate timeframe than you could accomplish with individual, manually-created emails.
9. Use technology to make your job easier.
Insurance proposal software will not just simplify your customer's experience. A customized insurance software program, such as those offered by Quotit, can provide your customers with 24/7 access to health plan information, expedite communication, deliver quotes, and create comprehensive insurance proposals. Automation can support the processes you already have in place, making your job easier than ever. Comprehensive insurance proposal software can help you manage your time, and should work in conjunction with your existing website and online tools, making it easy to make a smooth transition for your customers and agents.
10. Stay healthy.
Insurance sales success is based on your ability to connect with your clients, providing them with the insurance products and services that are right for their particular needs and circumstances. You can't accomplish anything if you let the long hours and stress of the fourth quarter sales period contribute to illness or fatigue. Instead, make time to focus on your physical and mental well-being by preparing healthy meals and individual snacks in advance for busy work weeks, making time to exercise (even if it's just a walk during lunchtime), and drinking lots of water.
Effective time management techniques and innovative technology can help you focus on fourth quarter sales, and build your business and brand as a trusted source of of knowledge and expertise in the health insurance industry. Don't miss out on sales because you've run out of time. Instead, embrace the opportunities of busy enrollment periods and use your time management skills to take advantage of every potential sale.